Pictures
---
Below, we have Triumphs from all over the world: USA, Canada, the Netherlands...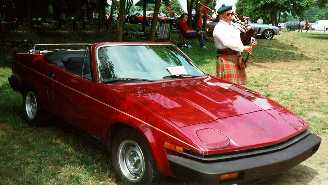 (left) The picture to the left is my 30th Anniversary Edition TR7. The photo was taken in Bowie, Maryland, at the 1995 British Car Day. It has since been retouched by me in Paint Shop Pro to remove extraneous bits (like the trash barrel you *don't* see on the right side) and people who didn't wish to be shown.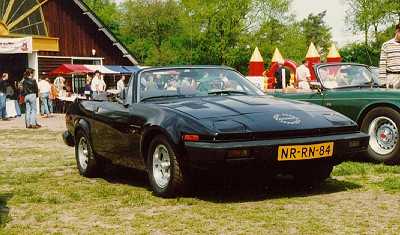 (right) This is Johan Vorsterman von Oijen's TR7. He has a really nifty hardtop for it, too. I have pictures of the hardtop on the car, and will add at least one soon.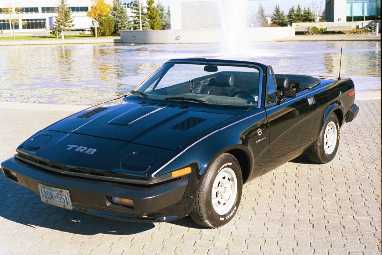 (left) Paul MacDonald's car was purchased from the original owner in Virginia in1993. He imported it to Canada ,where it waited in his garage until he began seriously working on it in 1996. It is a 1980 US carbed , A/C , 5 speed .
When Paul purchased the car it was basically abandoned in a compound with no wheels or tires as they had been stolen and the owner had lost interest . As it had spent it's life in Virginia there was little rust on it except for in the a couple of spots where water had collected while sitting . The passenger side panel behind the rear tire was rusted, as was a spot under the driver's seat ( where a poorly fitting top let water in ). All of the rusted pieces were cut out and new metal panels welded in .
Mechanically the car simply needed brakes all around and a new fuel pump. Paul will be doing some exhaust work on it soon since the PO removed the mufflers and put on straight pipes !! Sounds a little LOUD with just the cats and the resonators . He changed the color from platinum to black and dyed the interior which was blue check to black . The front spoiler is the "rally" one from Rimmers .If you look closely at the pictures you will see a stripe on both sides of the center of the hood with a V8 notation ,originally a Canadian dealer installed extra that has been reproduced in silver to match the rest of the decals . As well , he removed the luggage rack for a cleaner look .
The tires are a little different , they say "Triumph" in white letters and were something that Paul just couldn't pass up even though he doesn't usually like lettered tires . They were made by Firestone and were discontinued and in short supply when he found them in 1996.
Plans for the future include detailing the engine compartment ( can you ever stop ? ), getting the A/C working , hopefully only a recharge is required , then putting a bunch of miles on it . With all this power on tap will Paul ever be satisfied driving his MGB again ?
Paul MacDonald
Ottawa Canada
If you want to submit pictures or request their removal, E-Mail Me!
---