Triumph / British Car Scheduled Events
(For a more complete list, see the VTR Web Site, <HERE> )
---
Events on the USA Eastern Seaboard that I'm wll or would like to attend, and recent events that I attended...
September 13, 1998: The Central Pennsylvania Triumph Club Steak & Chicken picnic (formerly the Pig Roast). An annual event since 1990, the picnic has great food, fellowship, driving games, and a Chinese auction. Also there are usually gift give-aways, trivia contests, etc.
May ? 1999: Carlisle Import & Kit Car show in Carlisle, PA. The Central Pennsylvania Triumph Club should have 75-100 Triumphsthere throughout the weekend; usually the largest or second-largest group at the show. Also lots of parts to be found...!
May ?, 1999: Usually 1 week after Carlisle. Richmond Triumph Register 7th Annual British Car Meet. Below, photos from the 1997 event. Regrettably, we missed the 1998 show in a new location, as the TR7 was discovered to be completely nonrepairable just prior to the event.
June ?, 1999: British Car Day at Bowie, MD. Another great show, with some parts vendors and great scenery. The picture below is my TR7 at the 1995 show.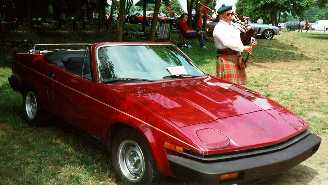 August ? , 1999: The Roadster Factory Summer Party! Don't you dare miss this if you live east of the Mississippi! Drag racing, autocross, TSD Rallye, valve cover racing, and much more!
---
MORE EVENTS: Go to the VTR Events Page
To join the Central PA Triumph club, contact: Diane James.
To join the Richmond Triumph Register, contact: Ken Nachman.
---