Spitfire 1500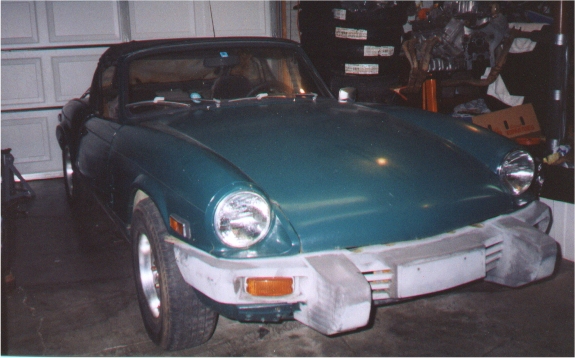 Purchased August 1, 1998 with the paint money for the Spider, the Spitfire 1500 is intended to be my wife's Triumph. So far, it's needed carbuerettor work, complete brake overhaul (conversion to DOT5 fluid at the same time), new carpets, new dash cover, replacement seats, and paint for the bumpers.
Most recently, I've doscovered a vapor lock condition caused by the fuel lines and carburettor being located directly above the extremely hot catalytic converter. We've seen heat shields at some car shows, but can find no such part originally fitted to the car. So we'll be on the lookout for aftermarket heat shields.
We purchased the poly bush kit for the suspension from TS imported automotive, and that should be fully installed before spring '99. At the same time, I hope to replace the shocks and possibly the trunnions. Also, the boot on one of the tie rod ends is cracked, so those will be replaced sooner than the rest of the suspension.
The Spitfire remains a work in progress that Daria seems less than overjoyed about... "A Miata would be more reliable" etc. However, the Spit has character, and it's already grown on Andrew -- at 18 months, he already gets into the drivers seat and starts turning the steering wheel side to side. He just loves the car!